This exhibition draws from the work of artists, scientists and scholars who first met while attending five-day experimental workshops in 2010 and 2012.
Similar to the workshops, this exhibition takes an experimental approach bringing together an interdisciplinary group from around the United States and Canada to push against traditional boundaries. Taking divergent approaches these artists examine the complexities of how we engage our environments and the resulting social, political and ecological implications of how one constructs meaning.
Leading up to the exhibition, a series of mini-workshops took place at Lafayette College focused on the topic of "ecotone." During the workshops undergraduate students worked alongside Mapping Meaning artists and scholars to explore current transitions in climate and technology and create site-specific work that is included in this exhibition.
Participating Artists:
Karina Aguilera Skvirsky
Nat Castañeda
Vasia Markides
Krista Caballero
Trudi Lynn Smith
Carmina Sánchez-del-Valle
THINK AGAIN (S.A. Bachman + David John Attyah)
Linda Wiener
Student Participants:
Genevieve M. Asselin
Andrea Coles
Elisabeth Day
L'Eunice Faust
Julia L. Guarch
Briana Howard
Ariel Jakubowski
Deborah M. List
Allison K. O'Donnell
Oluwadamilare Oyefeso
Nicole Pettingill
Megan M. Richardson
Jill Rosker
Aaliyah B. Shodeinde
Guest curator: Krista Caballero, Associate Director, Digital Cultures and Creativity, Honors College, University of Maryland and Mapping Meaning Founder.
Krista Caballero
Survival 101 (sculptural edition)
2010-2013
Survival 101 re-imagines leveling rods from a 1918 photograph depicting an all-female survey crew. Hand-carved historic designs are integrated with barcode references and video performance playing with notions of obsolete and emerging technologies.
Krista Caballero
Survival 101 (detail)
The video includes performances where participants were introduced to basic signaling techniques as well as emergency Morse code. Necessities for any survival kit, mirrors are carried for both military and civilian use while in wilderness environments. In an emergency situation flashes of sunlight signal distress and have the ability to communicate across great distance. Depending upon weather conditions these flashes can be visible up to 50 miles away with the record rescue being 105 miles.
Video Performance with participants at Mapping Meaning, Lafayette College, Easton, PA (2013)
Karina Aguilera Skvirsky
Time Travels, Miseria
Capital Reef, Utah (2012)
Easton, PA (2013)
Performance
9 minutes
"A time traveler, nostalgic for a pre-apocalyptic present, lands in UTAH. Rather than tell tales from the future, this bipedal, hermaphroditic life form reminisces by singing a song/bolero—"Miseria"—by Los Panchos (1949). "Miseria" was peformed in Spanish, while subtitles and abstract landscapes rolled across the embedded screen in the time traveler's chest. Rather than try to represent the unimaginable I donned a second-skin like costume evocative of low budget science fiction films from the past. I performed the Bolero three times singing the song with a different emotional projection—anger, sadness and fear—in a row."
Karina Aguilera Skvirsky
Time Travels, Miseria
Easton, PA (2013)
Performance (detail)
Carmina Sánchez-del-Valle
Infinite Terrain: Shared Space (Series)
2013
Workshop with Lafayette College students. Individual and collaborative discovery and marking of places and spaces along the Karl Stirner Arts Trail in Easton, PA. The site is undergoing ecological remediation.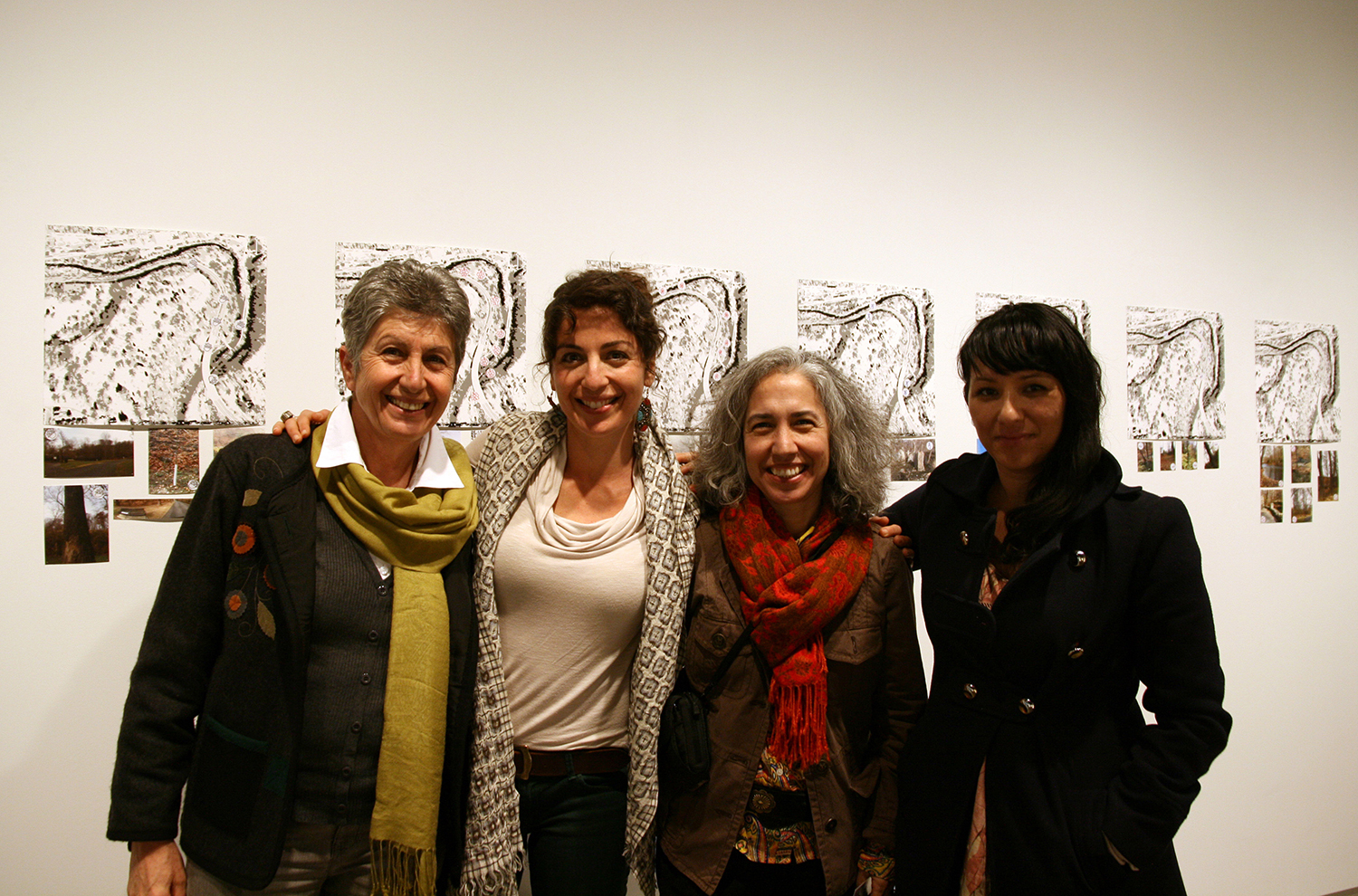 Emily Markides
Vasia Markides
Carmina Sánchez-del-Valle
Nat Castañeda
Nat Castañeda
Static Background Radiation (Episodes 1 + Outdoor Interlude)
2013-2014
Video
Episode 1: 5:15
Outdoor Interlude: 2:16
Trudi Lynn Smith
Portable Camera Obscura
2009-2014
Portable Camera Obscura is a walk-in, room-sized camera. The tent structure is a lightproof environment that projects an image of the outside view onto the back wall of the tent with a simple lens. First positioned in the exact location of popular photographic views in Waterton Lakes National Park, Canada in summer 2009, participants enter the tent to see the landscape projected onto the wall of the structure. The work is also about guiding participants on epic journeys: the camera is a portable structure, for hauling on expedition style journeys into the backcountry of parks and protected areas.
Linda Wiener
Life on Juniper
2014
Artist/Naturalist Book
Linda Wiener
Life on Juniper (detail)
2014
Artist/Naturalist Book
THINK AGAIN (S.A. Bachman + David John Attyah)
Hello/Hola
First edition 2002, 2nd edition 2012
Offset
Postcard campaign and installation
Vasia Markides
Hidden in the Sand
2008
Experimental Documentary
32:24
THINK AGAIN (S.A. Bachman + David John Attyah)
Hello/Hola
First edition 2002, 2nd edition 2012
Offset
Postcard campaign and installation
Hello/Hola links the rape and murder of over 370 unidentified women in Ciudad Juarez (and Chihuahua) to the structural effects of NAFTA and intergovernmental relations between the USA and Mexico. It connects the flow of international capital and multinational corporations search for cheap labor to the flow of women's lives.
Many of the victims in Ciudad Juarez were maquiladora (factory) employees and many remain unidentified. Hello/Hola acknowledges the lost identities of these women. It uses the recurring blank nametag, manufactured by Avery, one of the maquiladoras operating in Juarez. The color blue references the factory worker's uniforms, as well as "black and blue" bruises.
More than half of the murders in Juarez were prompted by motives of domestic violence, robbery and gang wars, while a more than a third involved sexual assault. Gender-based violence is the most crucial public health crisis for women across the globe. Women are more likely to be injured or die from male violence than from cancer, accidents, and war combined.
In 2010, the United Nations created UN Women, the United Nations Entity for Gender Equality and the Empowerment of Women. This was a historic step in accelerating the organization's goals on gender equality and the empowerment of women.
PLEASE SEND A PRE-ADDRESSED POSTCARD TO UN WOMEN AND VOICE YOUR SUPPORT FOR THE EMPOWERMENT OF WOMEN.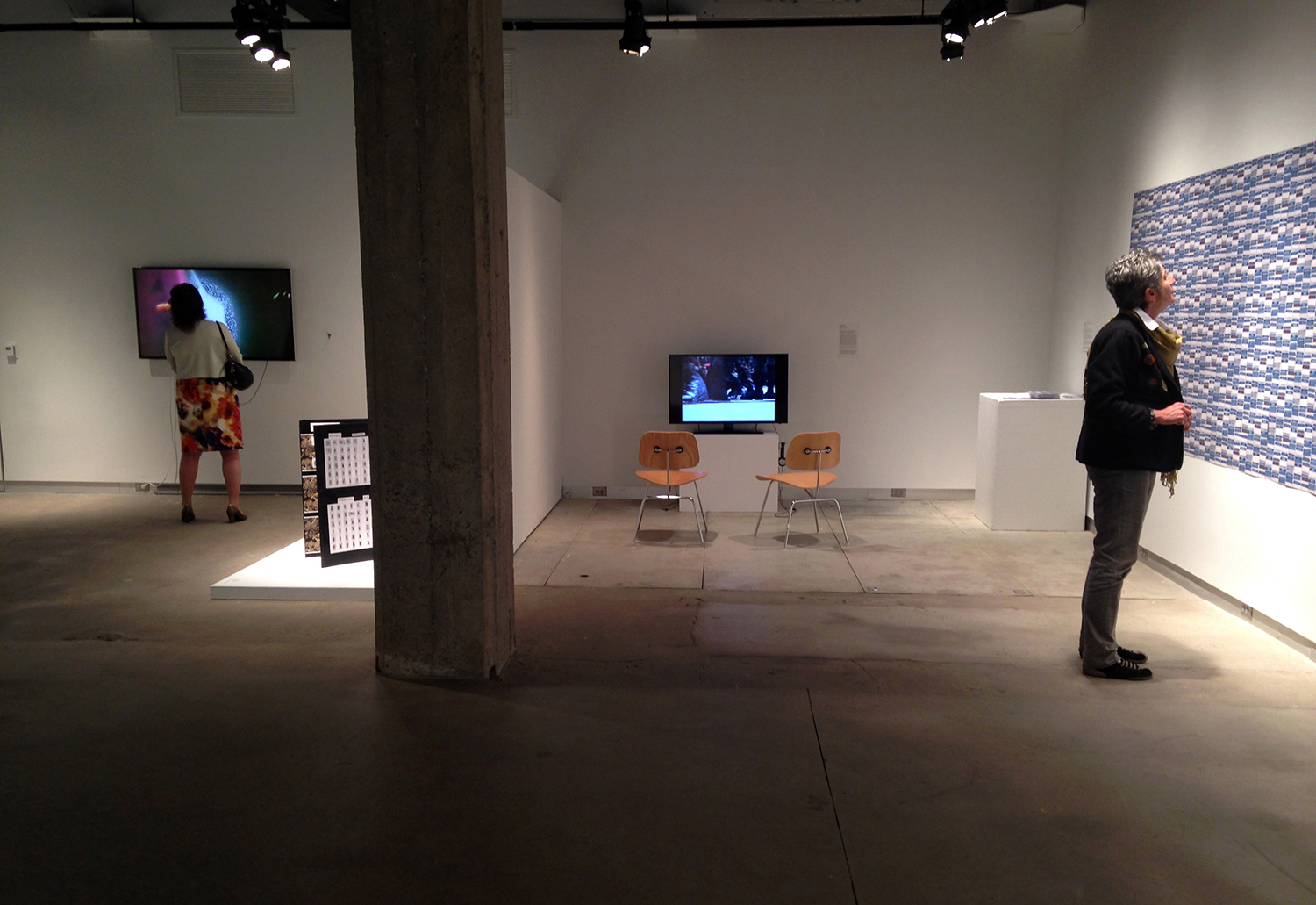 Vasia Markides
Hidden in the Sand
2008
Experimental Documentary (video still)
32:24
In 1974, a coup backed by the Greek military junta instigated Turkey to invade the nation of Cyprus. They captured almost 40% of the island and displaced its residents, both Greek- and Turkish-Cypriot.
Varosha, which was once a tourist district in the city of Famagusta on the east coast of Cyprus, was occupied and all its Greek-Cypriot residents fled their homes. Since then, Varosha has been encircled by barbed wire and kept under strict surveillance by the Turkish military, which uses the territory as a bargaining chip in negotiations with the Cyprus government. Its citizens are still forbidden to return. Over the last 39 years, Varosha went from being "Cyprus's Riviera", to a dilapidated ghost city; its former inhabitants watch their houses decay from outside the barricades. Within Varosha's limits rare sea turtles nest on the beaches, bougainvilleas overtake deteriorating homes, and wild asparagus and prickly pear plants run rampant.
As both the maker and a participant, the filmmaker examines the fate of this city in captivity and her family's connection to it.
A follow-up to Hidden in the Sand is the documentary, The Famagusta Ecocity Project (currently in production), about a rapidly growing movement in Cyprus to transform Famagusta into Europe's model Ecocity and center for conflict mediation (more at www.ecocityproject.com).
Lafayette College